Hiring a best photo editing company is a time-consuming process, in general. You have to choose a professionals who can do your editing task on time and return a quality work. Good quality images of products can affect customers' perceptions and encourage them to consider that product in their daily usage. E-commerce has completely taken over the business world, and it is recommended to shift from the physical to the eCommerce world as soon as possible. The best way to succeed in the eCommerce world is to rethink how you display your products to customers.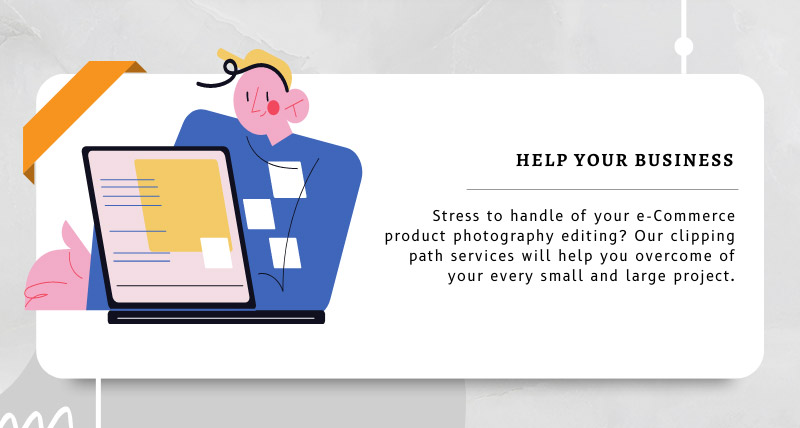 On e-commerce website, a customer is not touching or viewing the product physically, but rather he is viewing the products on the e-commerce website or store. and the only thing that will inspire him to purchase things is the quality of the product images.
So it is recommended to always keep some factors in mind while taking services from a photo editing company.
We have prepared a list of things to keep in mind when hiring a photo editing company.
One of the most significant elements to keep in mind when hiring a professional photo editing company is the company's area of expertise. You must first establish what sort of editing abilities and experience your task demands to select a picture editing company with knowledge of the editing talents you seek.
Experience is important in any field of life, but it is especially important when skilled work is involved. Photo editing is also a high-skilled task and is dependent on the experience of the company or team performing that task. Always hire an agent who has the experience and is pretty much aware of the work demands.
Technologies and Infrastructure
In this digital era world, the company that improves its technology daily will be able to keep market share. It is essential to evaluate the technology and infrastructure of the photo editing firm. Photo editors who apply the latest editing procedures such as equalization, blurring, blemish removal, sharpening, and contouring are in high demand.
Image editing companies provide their services using cutting-edge software and technology. The technology allows them to perform numerous functions on the images to make them appear flawless. So, make sure you select an image editing company that employs up-to-date technology and tools.
It is critical to review the portfolio of the specific product photography editing company before determining which company to hire.
When browsing through the portfolio, examine whether the designs of the studio reflect your brand and what you are looking for. It is also critical to determine whether they have prior expertise in your sector.
Always demand your preferred themes and ensure that they are appropriate for your business. Also, ensure that the picture editor will work in accordance with the client's specifications.
Photo editing and retouching is a time-consuming process that necessitates the use of professionals who can do the task properly and on time. Today, the business world is expanding at a high pace, and someone who wants to compete with other businesses needs to hire photo editors who can deliver quality work within a deadline.
When a company outsources its business tasks to another company, a quick reaction time is a factor they look for. A graphics design or an editing company must respond to its clients, whether for communication or to deliver work on time. So it is suggested to work with a photo editing company that has a faster response and keeps you informed about the progress.
One of the most critical factors to consider when selecting image editing company is whether or not the security of your photographs will be compromised;
Everyone is concerned about data security in this modern era. You may have unique graphics or themes that you do not want to share with another competitor, so make sure that the agreement fully expresses all critical issues with the photo editing company, including security provisions.
Price is one of the most important factors to consider when selecting the ideal photo editing company for your editing service. Try to compare and bargain the prices of multiple companies. If you have identified the editors who have impressed you, you may choose the one who is providing quality services at a reduced cost.
Also, if you are hiring a foreign editor company, you should investigate whether the payment methods they use are legitimate. Check to see if the invoices have been sent and updated so that you do not run into any financial difficulties. There are several hidden costs that corporations do not disclose but charge you once you sign a contract with them.
As a result, before making a selection, you should evaluate the services offered by different companies and examine the actual pricing.
A high-quality product image will not only help buyers make quick judgments, but it will also ensure that your customers receive what they want, thereby optimizing the customer's buying experience. Give us a try; we will not let you down.
FotoMasking employs trained professionals who use modern software, ensuring that you receive high-quality services.
We also provide prompt service to clients. we will deliver the task within the time frame agreed upon after the order is submitted.
In comparison to certain competitors, our prices are reasonable. You can afford the high-quality services we provide.
We also respect our client's privacy. Once you have submitted your work, you can be confident that the photographs will not be shared elsewhere; we will only modify them and they will not be used for any other reason.
We are available 24 hours a day, seven days a week. In the event of an emergency, you can contact us at any time, and our team will be ready to assist you.